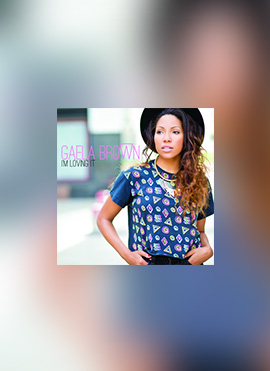 Biography
Every once in a while greatness is born with the intensity of a Universe filled with hopes and dreams, and lives are touched. Every once in a while a creative being reaches the soul of many by simply sharing her gifts. Every once in a while there is a Gaela Brown to keep our feet on the ground and our hearts at flight reaching for the stars.
History tells us that a few came into this world – and a few others will follow – with their pockets filled with wisdom and clarity. It is the work of the genius, their sacrifice, their responsibility. The inner light they were born with shines and sparkles in Gaela's voice, in her dance, in her piano and violin playing, in her song writing and in her composing. Their legacy will forever be a work in progress, but their journey is what keeps us alive.
Born of a Cameroonian mother and a Polish father, it was perhaps inevitable for this artist to have an open heart and a receptive soul to a variety of sounds that other s would have found almost impossible to combine: Yiddish, Soul, Classical, Jazz and Hip Hop music are her lawful home. The love bubble her parents created for her and her siblings made the rest: Gaela found her musical voice guided solely by her instinct. It does not get any better than that.
Gael Brown came into thisworld in the city of love. Paris saw her eyes open for the first time, and this beautifully talented young woman made this Earth her home. The conservatory guided her to play the violin, and she took it from there and self- taught herself everything else. The piano caught her attention after watching her sister create some magic of her own,andafter that, a whole new Gaela was born. Her voice transformed the rest of her feelings into music and nothing could stop her now.
Influenced by a wide variety of music genres while growing up, Brown also found her spirit dazzled by Hip Hop music in the very streets of the French capital, and adapted its in-the-moment honesty in the physical manifestation of her artistry: dance. As a choreographer, Gaela Brown is simply breathtaking: Samba, African dance, Jazz and Hip Hop meet in her imagination and translate into poetry of the body in motion, something she learned to do at a young age and has always been a part of her identity.
Producer Patrick Smadja signed Gaela Brown with CanUFeelIt Records and the rest will become part of History. London, Tel Avid, Los Angeles, Moscow, New York…they have all been part of her road map in the last few years, giving her the opportunity to expand her horizons and her soul. With a first single getting ready to hit the music platforms and radio stations of the U.S. and Europe and an EP that will follow, this is her time, her now, her moment.
To talk about Gaela Brown is to talk about unwaveringtalent. Everything she is, she molded it into her own image and made it hers to keep. Her voice leaves no one unmoved. Her dance knows no boundaries. Her musicianship is as true as fresh morning dew. To talk about Gaela Brown is to talk about the future of music with a smileonyourface.
Live Dates

Coming Soon...